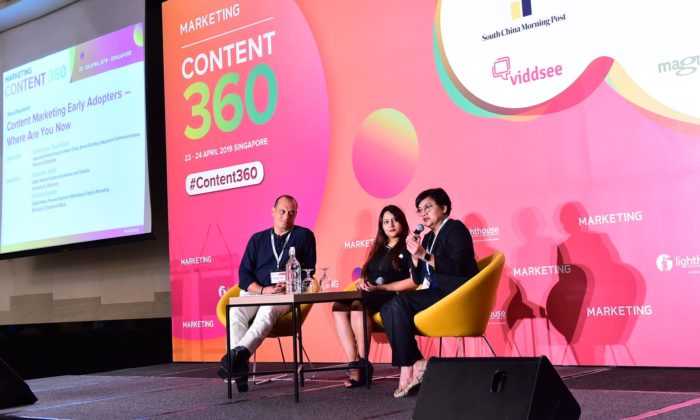 Standard Chartered Bank, P&G and J&J marketers share how your content can stand out
"Content is the business. It is pieces of content that influence consumers. When you see it from that perspective, then it is no longer just a nice-to-have," said Norliza Kassim, global head of personal segment marketing and digital marketing at Standard Chartered Bank, who was speaking at Marketing's Content 360 conference.
She elaborated that this is especially so for companies selling a service, and for those who do not have the privilege of appealing to customers' five senses through tangible products. Content has become their way of communicating with customers and building trust.
According to Kassim, Standard Chartered Bank first experimented with content marketing in 2014 to help parents give their children a head start in education. Through its research, it found that parents were touching on about nine pieces of content before they actually contacted an official to know more about an education programme or a university.
Parents were going to search engines, websites, social media and friends to look for information. To meet their needs, the bank started a series of content answering common concerns, and partnered with Prudential to create suitable financial solutions.
"The central belief when it comes to content is that it should be useful for the consumers. It should be informative, entertaining or engaging. If you are adding value for the consumer, then I think that it's the right way to augment your products," she said.
Sanchita Johri, Johnson & Johnson's Asia Pacific lead for marketing excellence and APAC head of total brand experience for self-care, said marketers have the most number of canvases at their disposal to create content.
She added that brands creating and publishing their own content are now constantly vying for attention against the media outlets of the world and social media influencers.
Everybody is doing everybody else's job.
Over the years, she has also noticed how social media platforms are evolving to be visual-first and posing new challenges to content marketers. Take Instagram, for example – marketers have a very short window to catch the attention of a user.
"As a marketer today, you're actually competing with the cutest kittens, the nicest kids and the sexiest car that there is in the consumer's timeline feed. So, unless you are really eye-catching, relevant and meaningful, you would have missed the window that you get when the consumer scrolls past your content," she said.
Cutting through the clutter
The content marketing space is, nonetheless, becoming over-saturated and that is because, contrary to popular belief, content marketing is not a new kid on the block, said Dominique Touchaud, Procter & Gamble's associate brand director (fabric care) and brand building integrated communications for Asia.
To cut through the clutter, Standard Chartered Bank's Kassim said brands first have to look into the format of their content and make sure it is well-optimised.
Creatives or videos that were created for the cinemas, for instance, are cropped on mobile. This will affect readability when the words are not presented fully, in the wrong format, or are too small.
Another way that has worked for her and her team is personalisation and personalised creatives. Working with Google, the bank has started a series of personalised creatives based on one key campaign video. The creative and execution varies in image, footage, offers, headlines and even the target audience.
"Google algorithms have proven to us that the content that becomes more searchable and goes up the search rankings are the relevant and engaging ones. So, what's going forward is about quality, not quantity. It's about how we know our customers' pain points and creating a piece of content that actually talks to them," she said.
Getting ahead
While artificial intelligence may seem like a buzzword today, it is slowly becoming the new reality of content marketing. Touchaud said he is surprised that dynamic creatives have not taken off faster. A machine, for example, can churn out a hundred personalised creatives for banners.
He added that P&G's surveys have shown that the quality of the creative is the most important content success factor, even ahead of placement and distribution. He said: "I don't understand why we need humans to do banners anymore because banners are the lowest level of creativity anywhere. Nobody clicks on them."
I don't think any human being should spend one minute on designing a creative banner.
Further, the panellists noted how Alexa and Siri have been creating great user-generated content and incorporating augmented and virtual reality. Videos and voice search tools may, therefore, be the next things content marketers look for in their quest to get ahead of the curve.
While breaking new frontiers is a good thing, Johri reminded marketers of the importance of ensuring scalability, sustainability and profitability.
"As a gatekeeper for digital marketing, it's my job to cut out the shiny new toys from the things that really matter for the business," she said.