Why Attend
Learning designed for anyone across sector and industry
Whether you're in a B2B or B2C company, we have curated specialised topics catered just for you. Discover some of the content strategy approaches that is applicable to your business and consumers.
Flexible learning
Don't worry if you aren't able to tune in to all of our session virtually, you will have access to all sessions' recording, presentation slides and additional resources for further reading (subject to speakers' approval for distribution) for up to 1 month post-conference.
Timely and relevant information sharing
Access practical insights on current issues in your industry and take away new solutions to your day-to-day business challenges.
Explore the emerging opportunities that the pandemic has created
The pandemic has given rise to a number of social platforms and channels. Learn how you could effectively use it to your advantage.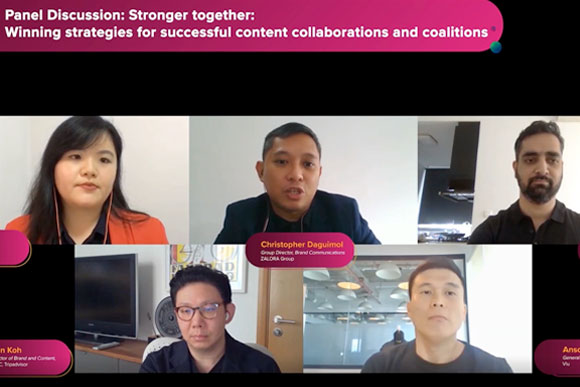 Establishing an evidence-based content ecosystem within your organisation.
Strategically align your content to each digital platform.
Adopting a customer-centric mindset in your content team.
Identify the right social channels for your brand.
Discover content marketing opportunities through emerging technology and platform.
Who should attend?
Content marketing strategists who wish to learn how to create content that organically reaches their target audience.
Marketers who wish to strengthen and enhance consumer engagement on each digital platform.
Entrepreneurs who wish to effectively capitalise on digital channels and platforms especially as budgets are tight.
If you fall under the following job roles, this conference is the definitely one you should not miss.
C-Suite
Chief Marketing Officer
Chief Brand Officer
Chief Social Officer
Chief Creative Officer
Chief Content Officer
VPs / Directors / Head / Managers of
Creative
Creative Innovation
Creative Communications
Digital Marketing
Integrated Marketing
Brand Marketing
Marketing
VPs / Directors / Head / Managers of
Social Media Marketing
Web Marketing
Content Marketing
Email Marketing
Affiliate Marketing
Product Marketing
Digital Media