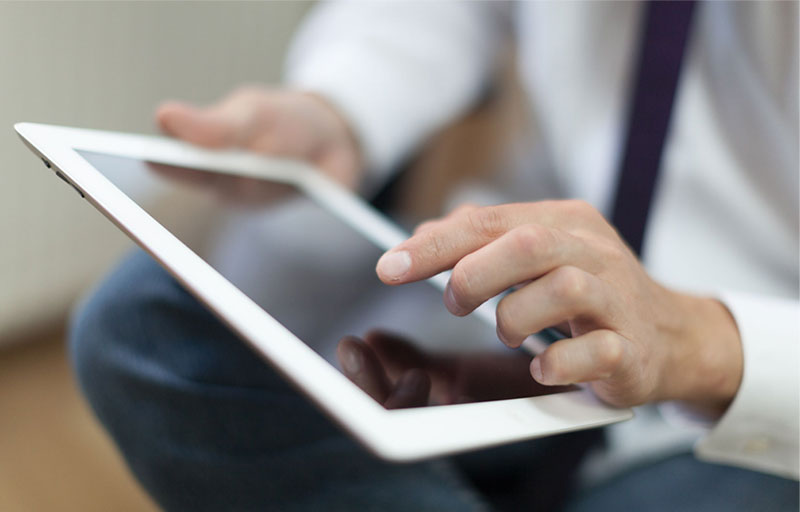 Get premium exposure to the brightest minds in the industry
Be it brand exposure, lead generation or expanding your industry network, we will create the right pathway for you to meet your business objectives and take the next steps to achieving your goals, and give your brand the competitive edge to shine!
If you have more questions, get in touch with our team at partnerships@marketing-interactive.com.
Celtra
Celtra's Creative Automation software enables speed, automation, and control in creative production. It helps brands like Spotify, Adidas, YETI, and hundreds more scale creative for performance marketing, localisation, and personalisation.
Looking to drive business and brand growth through personalised performance and brand creative at scale? Reach out to learn how Creative Automation can transform your speed-to-market, content volume, transcreation, and creative variety.
Adobe
Adobe gives everyone—from emerging artists to global brands—everything they need to design and deliver exceptional digital experiences. We're passionate about empowering people to create beautiful and powerful images, videos, and apps, and transforming how companies interact with their customers across every screen.
Kaltura
Kaltura's mission is to power any video experience for any organisation. The Kaltura Video Experience Cloud offers live and on-demand video products for every enterprise need, across all industries. With Kaltura Video Cloud APIs and Media Services, companies can also build any video experience or workflow. Kaltura is used by millions of users globally at leading brands for communication, collaboration, training, marketing, sales, customer care, teaching, learning, and entertainment. To learn more, visit corp.kaltura.com.
BBC News
BBC.com is BBC Studios' global digital news platform, offering up-to-the-minute international news, in-depth analysis and features, including BBC Worklife, BBC Culture, BBC Future, BBC Travel and BBC Reel, for PCs, tablets and mobile devices to more than 139 million unique browsers each month. BBC World News television is available in more than 200 countries and territories worldwide, and over 450 million households and 3 million hotel rooms. The channel is also available on over 180 cruise ships, 53 airlines, including 13 distributing the channel live inflight.
EventX
EventX, an Asian-focused event SaaS company providing event lead generation and event management solutions for businesses and marketers. EventX has raised a total series B funding of US$18,000,000 through investors such as GL Ventures, Gaocheng Capital and HTC. The company serves a wide variety of industries ranging from financial institutions, entertainment, education to large-scale music concerts and conferences. The company currently caters to 100+ countries and has organised 20,000+ events with 5+ million attendees.
Equipped with a strong support network, the company distinguished itself from other event SaaS providers by its ability to provide event organisers and participants a smooth online experience. Visit https://www.eventx.io for more information.
Read more
亞洲領先的虛擬活動管理SaaS公司 EventX, 服務對象範疇遍佈多個行業領域,包括:金融機構、娛樂、教育、大型音樂會及國際會議等。公司目前在100多個國家或地區提供服務,並成功舉辦2萬多場活動,吸引逾5萬人參加。EventX先後從高瓴創投、高誠資本及HTC等投資者中獲得1800萬美元B輪融資。
EventX旨在使營銷人員能充份利用虛擬活動的力量,發掘潛在客戶並打破人與人之間的阻隔。通過強大而穩定的網絡支援,主辦方和參加者都能在亞洲地區以暢通無阻的網絡舉辦和參與線上活動。
Mediacorp
Mediacorp is Singapore's national media network and largest content creator. Its purpose is to create engaging and trusted content, as well as to connect communities and inspire people. Mediacorp engages over three million people in Singapore daily across four languages on its digital platforms including meWATCH, meLISTEN and CNA.asia, six TV channels and 11 radio stations. Beyond Singapore, Mediacorp also has a growing international audience through CNA and content distributed across markets.
Read more
With focus on nurturing talent and growing the sector, the company is committed to investing in nation-wide initiatives like Star Search, Anugerah, Yaar Antha Star and SPOP, commissioning a wide variety of work from local content creators, and collaborating with institutes of higher learning. As Singapore's first local Multi-Channel Network in partnership with YouTube, Mediacorp is also committed to developing a network of digital content creators.
For advertisers, Mediacorp has partnered industry-leading brands like ESPN, Motherwhip, Popcorn, theAsianparent, VICE, YouTube and 99.co form the Mediacorp Digital Network in offering more effective content-driven solutions. Mediacorp is the recipient of industry accolades including New York Festivals, World Media Festivals, PromaxBDA (World and Asia) and Asian Academy Creative Awards.
For more information, please visit mediacorp.sg.
Yahoo
Yahoo is a global media and tech company that connects people to their passions. We reach nearly 900 million people around the world, bringing them closer to what they love—from finance and sports, to shopping, gaming and news—with the trusted products, content and tech that fuel their day. For partners, we provide a full-stack platform for businesses to amplify growth and drive more meaningful connections across advertising, search and media.
The Wall Street Journal
The Wall Street Journal is a global news organisation that provides leading news, information, commentary and analysis. Published by Dow Jones, The Wall Street Journal engages readers across print, digital, mobile, social, and video. Building on its heritage as the preeminent source of global business and financial news, the Journal includes coverage of U.S. and world news, politics, arts, culture, lifestyle, sports, and health. It holds 38 Pulitzer Prizes for outstanding journalism.
Shutterstock
Shutterstock, Inc. (NYSE: SSTK), is a leading global creative platform offering full-service solutions, high-quality content, and creative workflow solutions for brands, businesses and media companies. Directly and through its group subsidiaries, Shutterstock's comprehensive collection includes high-quality licensed photographs, vectors, illustrations, videos, 3D models and music. Working with its growing community of over 2 million contributors, Shutterstock adds hundreds of thousands of images each week, and currently has more than 400 million images and more than 24 million video clips available.
Read more
Headquartered in New York City, Shutterstock has offices around the world and customers in more than 150 countries. The Company also owns PicMonkey, a leading online graphic design and image editing platform; Offset, a high-end image collection; Shutterstock Studios, an end-to-end custom creative shop; PremiumBeat, a curated royalty-free music library; Shutterstock Editorial, a premier source of editorial images and videos for the world's media; TurboSquid, a leading 3D content marketplace; Amper Music, an AI-driven music platform; and Bigstock, a value-oriented stock media offering.
For more information, please visit www.shutterstock.com and follow Shutterstock on Twitter and on Facebook.
Magnolia
Founded in 1997 with a vision to create the first truly open content management system, Magnolia is now the world's leading composable Digital Experience Platform. We help clients succeed by giving them the flexibility they need to make truly differentiated customer experiences. Thanks to our open architecture and headless approach that works for developers and marketers alike, Magnolia is now the DXP of choice for a new wave of companies in industries ranging from automotive to telecommunications. We've been pioneering composable DXP solutions for more than a decade, and with a track record of 100% project success, our customers know they can trust us to help them stay ahead of the pack. Visit our website for more information: https://www.magnolia-cms.com/

Branding opportunities for your brand and its products and services
Be seen as THE solution provider for the challenges and issues faced by content creators and marketers alike. Showcase your product or solution and get your target audience hooked via your very own conference session.

Being front and centre in thought leadership and dynamic discussions
Position your company as the authority in the industry by leading dynamic discussion sessions and showing off your thought leadership in relevant aspects of the industry.

Expanding your cross-border leads for potential prospects
With over 250+ delegates from different industries in attendance, this is the perfect opportunity for you to expand your cross-border leads and who knows, one of them will become your next prospect.

Widening your industry network for future collaborations
Do you have a major project on the horizon that you can't tackle alone? This is your chance to network with over 250+ delegates and widen your industry network. Perhaps one of them will be your future collaborator.

Shine the spotlight on your brand and what it brings to the table
Be featured on our conference website with an exclusive landing page. This is the perfect opportunity to feature direct links to whitepapers, podcasts, content, anything necessary to amplify your brand and the solutions to industry professionals out there.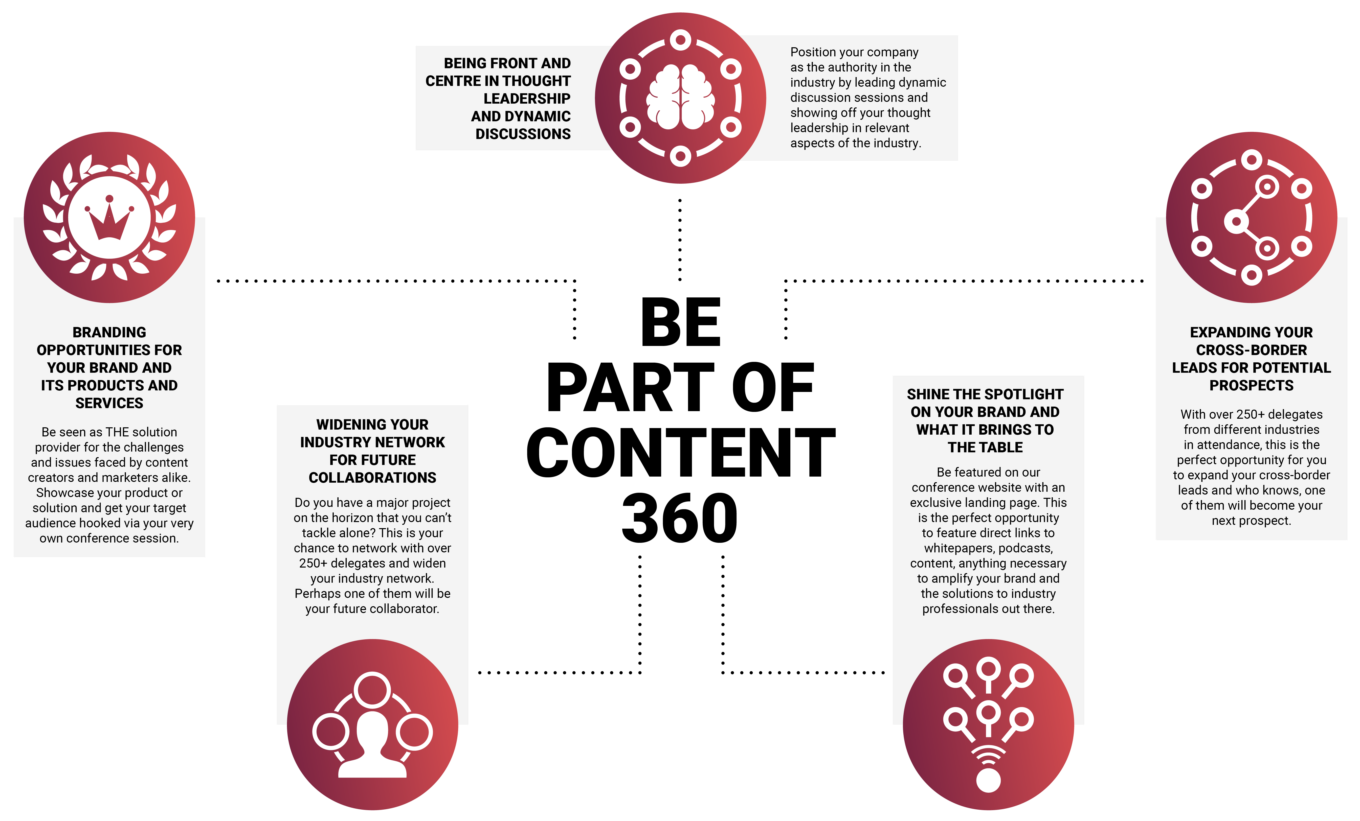 If your organisation provides any of the following services or solutions, you'll fit right in at this event:
Content Marketing Agencies (PR, Media, Specialist)
Content Management Solutions Providers
Content Intelligence Software Providers (Marketing Cloud)
Analytics and Measurement Providers
Content Distribution/Amplification Providers
Media Companies who offer Customised Content Production Services
Influencer Agencies and Networks
Event Organisers
Content Platforms
and more…